Have you ever heard of the United Nations Global Impact?
The world's largest corporate sustainability initiative is a call to companies to align strategies and operations with universal principles on human rights, labor, environment and anti-corruption, and take actions that advance societal goals – the UN Sustainable Development Goals (SDGs). 16,540 companies based in 158 countries, both developed and developing, representing nearly every sector and size, drive change across all aspects of corporate sustainability.
Although important progress has been made by the business community, we have a lot more work to do to achieve our vision of a better and more sustainable future for all. Not only do the Sustainable Development Goals identify where we should be in 2030 to create the sustainable world we seek, but they also provide a unique chance for all sectors to rally around a common global agenda – one that unites us to take responsibility to improve people's lives and save our planet.
For this reason, the United Nations Global Compact has introduced the SDG Action Manager to provide all types of businesses with an opportunity to learn about, manage, and directly improve their sustainability performance. Developed in cooperation with B Lab, the SDG Action Manager is a web-based impact management solution to enable businesses to take action on the Sustainable Development Goals through 2030. The SDG Action Manager brings together B Lab's B Impact Assessment, the Ten Principles of the UN Global Compact, and the Sustainable Development Goals, to enable meaningful business action through dynamic self-assessment, benchmarking, and improvement. It is informed by the work and feedback of a range of stakeholders, including experts in corporate sustainability, civil society, UN, and academia; and it is inspired by the Certified B Corp community and participating companies of the UN Global Compact. The SDG Action Manager is available in multiple languages, and best of all: It is free of charge.
At GAIA Insights, we are not only a certified B Corp®, we also completed the SDG Action Manager and you can see our top scores in the visual below. Given our line of business is in leadership development, it is not surprising that SDG #4 Quality Education comes out at the top for us. As "side effects" of our main business, apparently, we also have a positive impact on SDGs such as peace, health, reduced inequalities and poverty.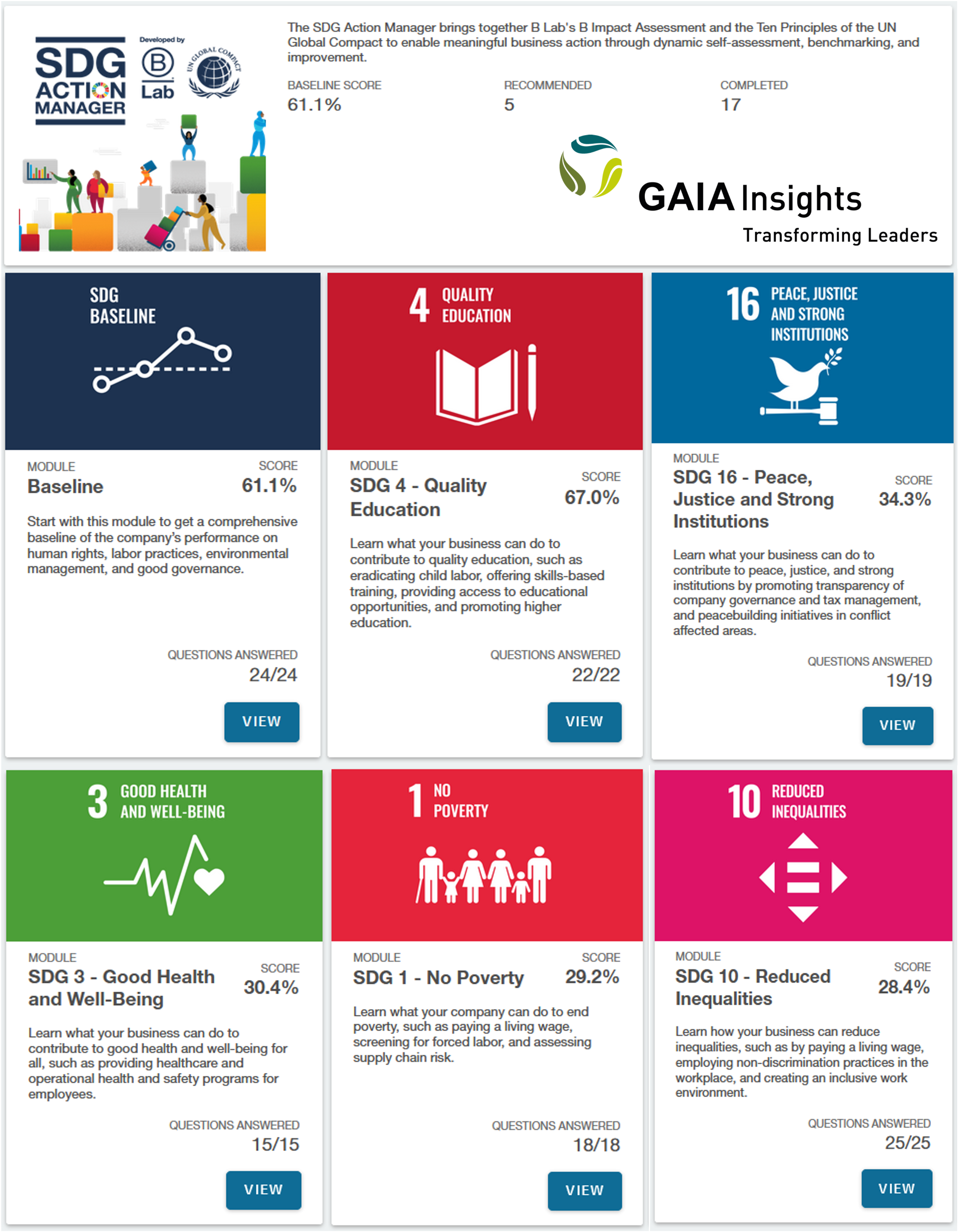 Our lowest scores by the way, have been recorded for SDGs #7 Affordable and Clean Energy (4.5%), #11 Sustainable Cities and Communities (4.7%), #9 Industry, Innovation and Infrastructure (5.3%) and #6 Clean Water and Sanitation (5.4%) which is little unexpected for a company that does not produce any goods, has no facilities and therefore little direct impact in these areas.
However, the SDG Action Manager tool also suggests recommended modules where a company has the most opportunity to contribute to the SDGs, based on the World Benchmarking Alliance's market analysis. For GAIA Insights, these include SDG #4 Quality Education already featured above, and these four:

Admittedly, #14 Life below Water is a little astonishing and we have not figured out yet how come this SDG made it to our recommended areas for contribution, but we are going to continue to educate ourselves and learn more about how GAIA Insights can take actions and drive change across all aspects of corporate sustainability.
So, what does all this mean?
Guided by practical advice outlined in the UN Global Impact material freely available, we are going to dive deeper into the SDGs and conduct a "principled prioritization" of the SDG targets. We are going to identify the priority SDG targets for GAIA Insights based on two entry points: A) risks to people and the environment and B) beneficial products, services or investments. Doing this, of course, starts with a thorough review of all the SDGs and their targets while considering how the issues they raise might relate to our business. This includes targets we may not have foreseen under certain SDGs and to which we could make a critical difference by tackling risks associated with our operations and value chain. It also includes unanticipated targets that we could advance by applying our skills and capabilities in new ways. As the UN Global Compact's Practical Guide advises, we need to keep the interconnected nature of the SDGs in mind: Our actions might contribute to more than one target or SDG, and the two sets of prioritized SDG targets will typically differ, but they may also overlap.
Entry point A: Assess how priority risks to people and the environment relate to SDG targets.
The focus here is on identifying the most severe negative impacts on people and the environment that are linked to our operations and value chain and the SDG targets to which these impacts relate. The objective is to identify opportunities to tackle these risks in ways that maximize positive outcomes for people and the environment and therefore for the SDGs. For a company like GAIA Insights, which offers services rather than products and operates virtually, initially it seems quite odd to think of "risks to people and the environment" caused by our business. It would be an all too easy answer to simply say, just because all our staff works from home, because we have no supply chain, and our programs educate people rather than putting them at risk, that we do not have any negative impact on people and the environment. Maybe we have to reflect on a deeper level.
For example, due to our virtual operations, we certainly consume quite a bit of energy and produce digital data that is stored somewhere. Therefore, knowing that our IT provider has a Sustainability Strategy that also refers to the UN Sustainable Development Goals, that they received a silver medal in their 2021 sustainability performance audit and are a signee of the above-mentioned UN Global Compact reassures us that we are limiting our negative impact in that regard. However, personally, I went even one step further and called my electricity provider. Working from home means that I consume energy on my private bill, and I made that phone call to reconfirm that 100% of my private electricity is sourced from renewable energy sources. While GAIA Insights cannot mandate this for all our home-based staff members, we can and do take the time to educate our staff and have conversations about this topic.
Another example is the venues that we use when we get to deliver face-to-face programs. Granted this is a minority of our activities, yet when our clients are willing to invest in onsite live modules and we get to influence where those events are held, we make sure to include criteria such as eco-certification, sustainable operations, local organic food and community impact in our venue selection. In addition, responsible travel options for participants include the use of public transport, shared transfers, and general attention to minimizing environmental impact. The same is true for our very rare internal face-to-face meetings. If and when flying is necessary to reach a destination, we have also discussed donating to a carbon offset scheme. Offering this option to our clients might be the next tangible step on our journey to reduce "risks to people and the environment".
Entry point B: Identify SDG targets you can best contribute to through beneficial products, services or investments.
The focus here is on how we can apply our skills and capabilities to develop products, services or investments that contribute to the achievement of the SDGs. While this might not be immediately possible, the exercise could highlight ideas to make this possible in the future. The objective is to ensure that these beneficial products, services or investments are also developed and delivered in ways that minimize any negative impacts and therefore reinforce our viability in the long term.
For GAIA Insights, being a provider of leadership education, it is relatively easy to see that our expertise could be applied to a number of different audiences, thus potentially influencing various SDGs. For example, we could offer our services to people who are marginalized and discriminated against, people who face particular barriers to accessing education. Doing so would not only further increase our impact on SDG #4 Quality Education but might help reduce societal inequalities (SDG #10) and raise empowerment and gender equality (SDG #5). Besides, people with a higher level of education may be less likely to fall victim to poverty (SDG #1), hunger (SDG #2) or have a better chance at decent work and economic growth (SDG #8). A key question for us though, is how could these ideas be turned into business opportunities, i.e. viable income-generating services? To whom could we be selling them?
Another lens to look at when we assess which SDG targets we could best contribute to through our services, skills and capabilities, is to consider the "secondary impact" we have on SDGs via our participants. I am specifically thinking of the content of our programs and what it is we teach to people. Whether it is our BALANCE theme that supports health and well-being (SDG #3), EMPOWER that educates around diversity, equity and inclusion (SDG #5) or RISE that is dedicated to regenerative leadership practices (SDGs # 12, 13, 14, 15) – we constantly get to influence leaders who in turn get to make decisions that affect entire organizations, employees and customers of all walks of life and everywhere around the globe. While this is a great generic opportunity, it requires further fine-tuning and specification. Where exactly is it that we can make a difference? And again, how could these ideas be turned into tangible business opportunities?
These are the questions we are asking ourselves and we invite anyone to join our conversation. How can we evolve (one of our own strategic pillars by the way) and make sure to serve people, planet and purpose along the way? Equally, if you are curious to learn more about the SDG Action Manager or how we applied it, do not hesitate to reach out!